Rejoignez-nous
Nous formons une grande équipe
Vous avez l'opportunité de nous rejoindre !!! N'hésitez plus et rejoignez notre équipe, car en un rien de temps, vous réaliserez que TCH est l'endroit où vous voulez travailler.
Nous recherchons des personnes qui rendront l'expérience de chaque client dans notre hostel unique et irremplaçable.
Les valeurs qui définissent les employés de TCH sont la Passion (nous aimons ce que nous faisons et nous voulons transmettre au monde cette passion pour notre travail), le Dévouement (nous aimons consacrer notre temps à ceux qui nous ont fait confiance), le Respect (nous voulons que notre hostel soit un lieu pour tous), l'Implication (nous avons la volonté de donner le meilleur de nous-mêmes à chaque instant). Si vous partagez aussi ces valeurs ou si vous voulez les faire vôtres, nous souhaitons que vous rejoigniez notre équipe.
En effet, nous avons besoin de votre aide pour que TCH soit un lieu plein de vie et pour que nos hostels deviennent des lieux de rencontre.
TCH s'est engagé à respecter le principe d'égalité des chances et de non-discrimination dans la gestion de ses processus de recrutement.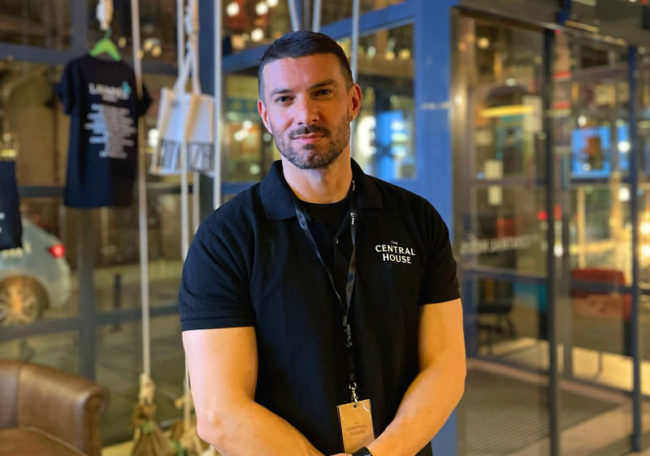 Voulez-vous rejoindre la famille TCH?
Receptionist
The Central House Lisbon Baixa
We believe in creating welcoming, fun and inspiring environments for our guests and team. We pride ourselves on being a team of globally minded, genuinely caring and friendly individuals. It's these values coupled with our unquenchable passion for service which created the unique culture that is TCH.
We need a Front Desk agent with immediate availability to join our team in Lisboa.
Job description:
– Full-time job (40 hours per week) with rotating schedule
– Maintain a friendly, cheerful and courteous demeanour at all times
– Use suggestive selling techniques to sell rooms/beds and promote other services of the hostel
– Assist in registering guests and assigning rooms/beds
– Resolve customer issues, complaints, problems in a quick, efficient manner to maintain a high level of customer satisfaction and quality service
– Build strong relationships and liaise with all other department's especially housekeeping, maintenance & reservations
– Performs other duties as assigned, requested, or deemed necessary by management
– Thoroughly understand and adhere to proper credit, check- cashing, and cash handling
policies and procedures.
– Ensures safety by following guest check in and security procedures and reporting suspicious activity to security, manager, or MOD
– Maintain the cleanliness and neatness of the front desk area
– Run the day end / night audit & police report
– Work closely with the Financial Department to ensure accounting coherence
– Availability for a rotating schedule
– Maintain fluid communication with the different departments
– Answering calls and e-mails
– Respond to customer queries, concerns and complaints.
Essential studies and experience required:
– Studies in Tourism and/or professional training in tourist accommodation management.
– Proficiency in Microsoft Office (Word, Outlook, PowerPoint…)
– Native Portuguese speaker is essential
– High level of English is essential
– Knowledge of other languages would be an asset
– Knowledge of the MEWS programme highly valued
Qualities:
– You are an excellent team player
– You have outstanding customer service skills
– You are communicative
– You are motivated and committed to your work
Please send your CV with PHOTO and subject (Receptionist full-time Lisboa) to: aabreu@grouptch.com